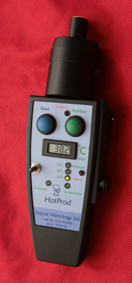 HotProd is a handheld thermal threshold tester.  Skin temperature can be measured before testing and the rotary knob on the side set to an appropriate temperature. The green PreHeat button then preheats the probe to this temperature, ensuring that the probe will heat immediately when placed on the skin.
The probe is mounted on a Topcat pneumatic actuator. This provides a cushion, ensuring that, with gentle pressure, the probe stays in good contact with the skin during the test. The probe heats automatically when the system detects that it is in contact and the threshold temperature is stored and displayed when the probe is withdrawn.
The system includes a safety cut-out at 55°C  (changeable at the factory) and a low battery warning light. HotProd is supplied with two rechargeable batteries and a charger. Disposable batteries may also be used. A flight case is provided.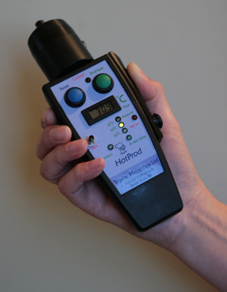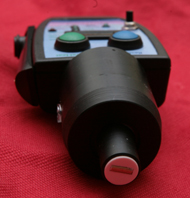 Hotprod uses the same probe and  heating rate (1°C/sec) as our wired and wireless thermal testing systems, calibrated in the same way to ensure consistency of data. The probe element is 8mm long and 2 mm wide and is suitable for use on shaved skin.
The miniature version, 4mm long and 1.5mm wide, is suitable for rodents